ELVIS PRESLEY
ELVIS Presley and the author Chris Hutchins got to know each other through a common mentor – Colonel Tom Parker. The man who managed the King of rock 'n roll treated the writer as a confidant. And that's what makes this book unique. Right from the earliest pages, the Colonel reveals his true feeling about Elvis and the unusual relationship they had. In one of the many letters he wrote to Hutchins he explains for the first time why it wasn't his fault that Elvis never travelled to perform outside the United States. Moving as freely within the Presley circle as he was able to, the author came into close contact not only with Elvis himself but also his family, friends and staff: everybody from Elvis's wife Priscilla, daughter Lisa, father Vernon, tour manager and closest companion Joe Esposito, show business buddies like Tom Jones – even his cook Mary Jenkins knew and talked to Chris Hutchins who even took the Beatles to party at his home. That's what makes this book A Personal Memoir.
Available in Hardback, Paperback and eBook
Published by: Neville Ness House www.nevillenesshouse.com
Available worldwide for purchase on Amazon including
        <![if !vml]>

<![endif]>                                                 <![if !vml]>

<![endif]>
________________________________________________________________________
<![if !vml]>
<![endif]>
________________________________________________________________________
HARRY:
The People's Prince
<![if !vml]>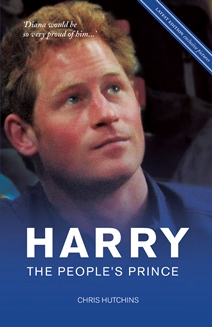 <![endif]>PRINCE Harry is the most interesting – indeed the most exciting - member of the Royal Family and this no-holds-barred biography tells his story for the first time.  Son of the late Princess Diana – the most famous woman on Earth – and Prince Charles, the next king, and brother of William, the king after that, he is determined to live by his mantra: 'I am what I am'.  From a childhood overshadowed by his parents' troubled marriage and scarred by the tragic death of his mother, to his brilliant public performances at the Queen's Diamond Jubilee celebrations, the London
Olympics and his brother's wedding, this book charts the remarkable journey of a young man with an extraordinary destiny.  It also reveals details of his extraordinary love life, telling for the first time what caused his affair with Cressida Bonas to collapse.  The author has enjoyed unparalleled access to a wide variety of people whose lives Harry has touched: senior aides, humble members of palace staff, aristocrats, bodyguards, school friends, comrades-in-arms . . . and old flames.  They piece together the tale of a young man who admirably has created a life so different from the one set out for him by what he describes as 'an accident of birth'.
Available worldwide for purchase on Amazon including
       <![if !vml]>

<![endif]>                                               <![if !vml]>

<![endif]>
________________________________________________________________________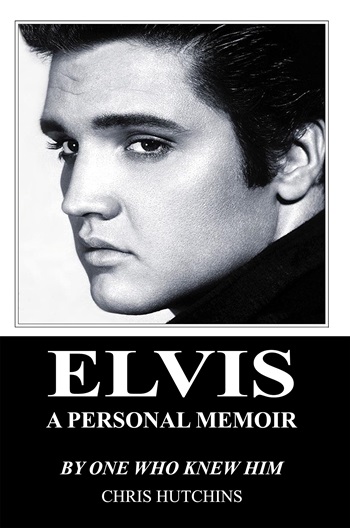 ________________________________________________________________________
THE BEATLES
THE BEATLES:  Messages from John, Paul, George and Ringo
THE postcard on the cover of this book says it all. The card was written by John Lennon and sent to his friend Chris Hutchins. On the card's  photograph of the Beatles, John had drawn a fifth member – the founder of the group Stuart Sutcliffe who John went on to describe as the best friend he ever had. This is the kind of confidence John, Paul George and Ringo shared with writer Hutchins who they befriended in their days as 'unknowns' in Hamburg. He shared their adventures during the heady days of Beatlemania; he was with them during their American tours in the 60s, sharing their euphoria and their sad moments. It was, for example, at Hutchins' Chelsea apartment that Paul met the love of his life, the actress Jane Asher. And it was Hutchins who arranged a party with Elvis Presley, the man they had always wanted to meet – alas, a meeting which was to cause a cataclysmic feud between Presley and Lennon which the author explains in detail along with how President Nixon and J Edgar Hoover got involved.
Available worldwide for purchase on Amazon including
       <![if !vml]>

<![endif]>                                               <![if !vml]>

<![endif]>
_______________________________________________________________________
<![if !vml]>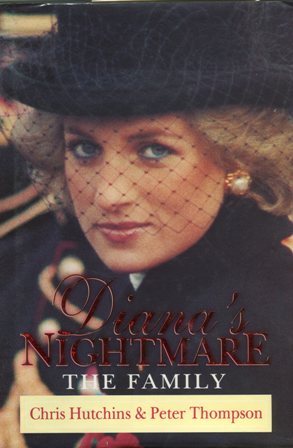 <![endif]>DIANA'S NIGHTMARE: The Family
WHEN Lady Diana Spencer married Prince Charles, she found herself trapped in a world of scandals, deceit and treachery. DIANA'S NIGHTMARE reveals the untold secrets she discovered about her husband's deeply flawed family and examines her strained and often stormy relationships with each member of the House of Windsor.
Above all it explains the true nature of Diana's nightmare in the royal world. Fighting for her dignity, her sanity and ultimately her independence, Diana's desperate battle to be the heroine of this tragedy drove her to the brink of collapse and into a self-imposed exile before her tragic death in a Paris tunnel, a tragedy that shocked the world.
Filled with new insights into the troubled life of the beautiful princess. I remained riveted to the end' – Dominic Dunne'
'A fascinating insight into the flesh-and-blood emotions heaving behind the doors of the Palace' – TODAY
'Chris Hutchins and Peter Thompson are names to be reckoned with' – Royal Biographer Anthony Holden in the Sunday Times
Available worldwide for purchase on Amazon including
       <![if !vml]>

<![endif]>                                               <![if !vml]>

<![endif]>
________________________________________________________________________
<![if !vml]>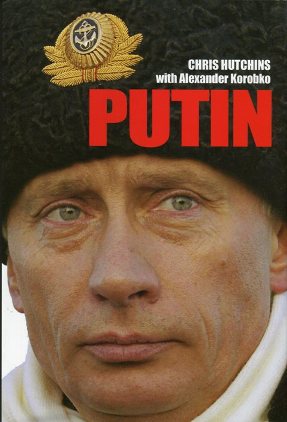 <![endif]>Putin:
RUSSIA's leader is now the most dangerous man in the world, asserts the oil tycoon Gordon Getty. If he cut off Russian oil and gas there would be no smoke coming from chimneys in China and India; Britain, Germany, Italy and France would all feel the chill and he would shake America's economy to the core. But that is Vladimir Putin the politician. What about the man? Who are his friends? Who does he turn to in times of trouble? How rich is he? What of his relations with his wife and daughters and what does Mrs Putin have to say about him? Who are the other women who have figured in his life? Chris Hutchins travelled throughout Russia to meet the people who know Putin best including a number who knew him as a child, as a teenager and as a young intelligence officer, long before he set foot on the world stage. It took the author six years to unravel the enigma that is Vladimir Putin. His book has many surprises.
Available worldwide for purchase on Amazon including
       <![if !vml]>

<![endif]>                                               <![if !vml]>

<![endif]>
_________________________________________________________________________
<![if !vml]>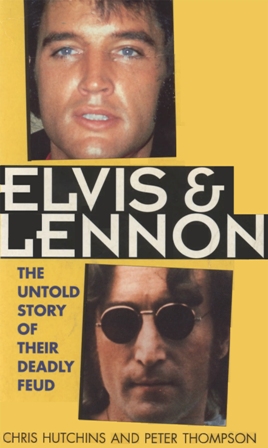 <![endif]> 
ELVIS & LENNON
was the paperback edition of When Elvis met the Beatles, the full and frank account of author Chris Hutchins' arrangement of the greatest-ever rock 'n roll summit at Presley's Bel Aire home on a night in August 1965 as well as his personal memories of the Beatles' Hamburg beginnings, their rise to unprecedented fame and fortune and the adventures shared during their American tours on which he travelled with them.
Available worldwide for purchase on Amazon including
       <![if !vml]>

<![endif]>                                               <![if !vml]>

<![endif]>
__________________________________________________________________
FERGIE CONFIDENTIAL
The Duchess of York's true story
<![if !vml]>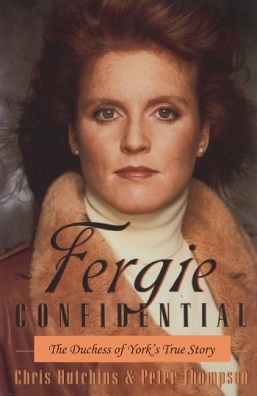 <![endif]>THIS is the book that broke the mould in royal biography terms: It seemed like a fairy-tale come true when Sarah Ferguson married the Queen's favourite son, Prince Andrew, and became one of the best-known women in the world. She was feted wherever she went – and she went everywhere. But the Duchess's world was about to come crashing down in spectacular fashion. This book was the first collaboration between Chris Hutchins, who broke the palace-rocking story of Fergie's risqué liaison with handsome [and an oil billionaire's son] Texan Steve Wyatt, and Peter Thompson who was editor of London's Daily Mirror when the paper ran the sexy St Tropez stories of the Duchess and her 'financial advisor' Johnny Bryan. The book also details her often-tempestuous relationship with Princess Diana and how both women decided to end their marriages.
'Gets to grips with the real story about how Fergie got herself into trouble and how Buckingham Palace dealt with it. A great read – especially if you like great royal gossip as much as I do' – Dominick Dunne.
Available worldwide for purchase on Amazon including
       <![if !vml]>

<![endif]>                                               <![if !vml]>

<![endif]>
________________________________________________________________________
ATHINA: The last Onassis
AT a time when Greece comes face-to-face with financial chaos, it is worth visiting the story of Athina Onassis Roussel, who became the richest little girl in the world when she inherited unimaginable wealth (and more!) from her heiress mother, Christina Onassis. This compelling book explores the legend of Athina's grandfather, the shipping magnate Aristotle Onassis, and examines the legacy that became Athina's extraordinary birthright <![if !vml]>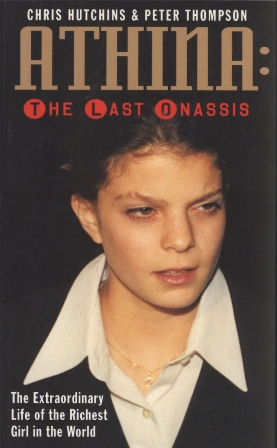 <![endif]>as The Last Onassis. No 20th-century sage features more great names than that of the Onassis dynasty; the Kennedys - including JFK and his widow Jacqueline, who became Onassis's second wife - the opera diva Maria Callas who longed to be the third; and Prince Rainier and Princess Grace, with whom he fought a celebrated feud for control of Monte Carlo. The cast list is endless: the Hollywood stars Elizabeth Taylor, Richard Burton, Marilyn Monroe and Greta Garbo, the politicians Sir Winston Churchill and Richard Nixon, the tycoons Stavros Niarchos and Howard Hughes and the FBI chief J. Edgar Hoover. Authors Chris Hutchins and Peter Thompson travelled the world to interview key witnesses, many of whom had never spoken before for publication. No book has ever penetrated so deeply into the secret world of the Onassis dynasty or looked more closely at the lives of Athina's father, Thierry Roussel and his second wife the Swedish model Gaby Landhage. An amazing story for incredible times.
Available worldwide for purchase on Amazon including
       <![if !vml]>

<![endif]>                                               <![if !vml]>

<![endif]>
        ________________________________________________________________________
SARAH'S STORY
<![if !vml]>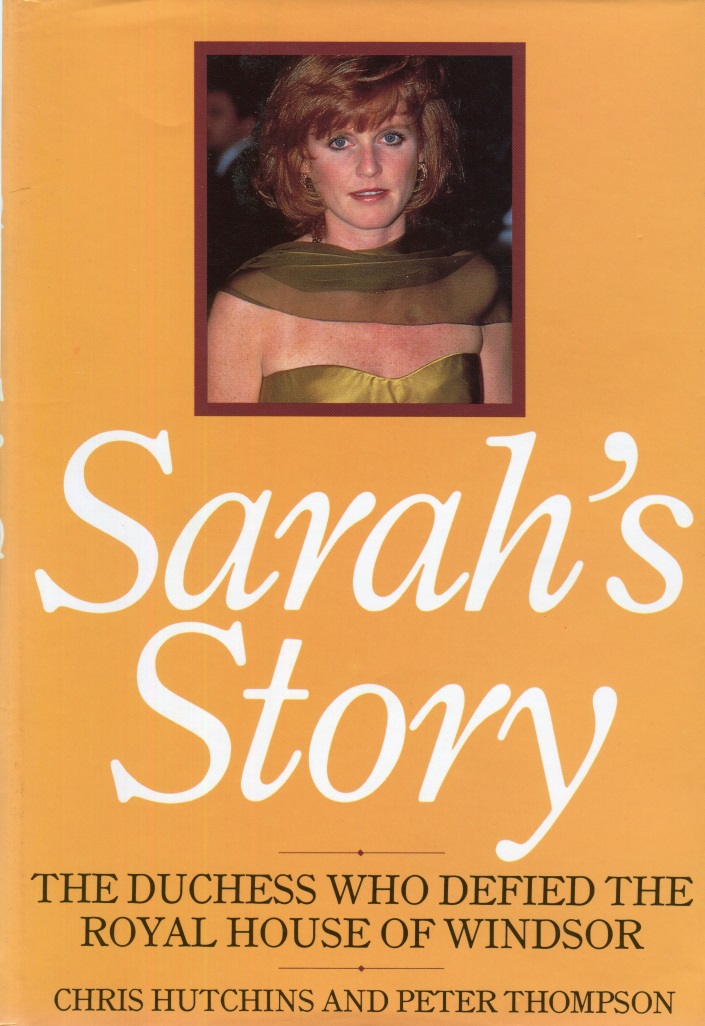 <![endif]>
is the original UK title of the U.S. (updated) edition, Fergie Confidential – so don't get both! Chris Hutchins and Peter Thompson tell the story of the Duchess of York's fall from grace after marrying the Queen's favourite son, Prince Andrew – how she got there, what went wrong and how she tried to pick up the pieces as a working mother after she had been ostracized from the Royal Family.
SARAH'S STORY is available as an ebook on Amazon Kindle.
<![if !vml]>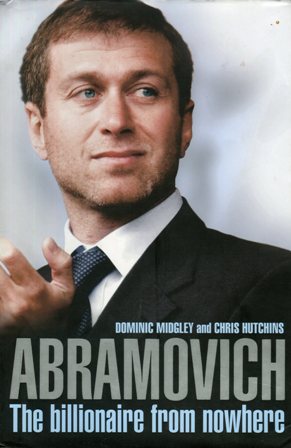 <![endif]>ABRAMOVICH:
The billionaire from nowhere
WHEN Chris Hutchins and Dominic Midgley first set off for Moscow at the start of their venture to uncover the secrets of the Russian oligarch who had used some of the vast fortune he had made from oil and gas to buy one of Britain's best known and loved football clubs, Chelsea FC, they were told they were on a hiding to nothing; that no one would dare talk to them about Roman Abramovich. Alas, those who made such proclamations had not reckoned with the tenacity of this pair of writers. By the time their mission was complete even Abramovich's own PR had to admit Hutchins and Midgley now knew even more about his man than he did. Among the discoveries the writers made during their journeys through Russia was that a newly elected Prime Minister Putin had asked him to interview – vet might be a better word – those ministers clambering for office in Putin's first government. The authors have delved into every aspect of Abramovich's life: the upbringing that formed him, the friendships that opened Kremlin doors, the business deals that made his incredible fortune and the spending spree on Chelsea that made him a bigger name in the UK than his own country.
'An incredible story' – Mail on Sunday; 'Well researched and fluently written' – The Times; 'Draws a picture of a man of immense ruthlessness, nerve and charm . . . offers a Vanity Fair of Russian oligarchy' – The Spectator; A superb insight into the Chelsea boss . . . a must read for both football fans and business tycoons' – Sunday Business Post; 'A well-researched investigation into the life and times of Chelsea's owner' – World Soccer; 'The first sustained effort to uncover the making of Chelsea's oligarch' – Guardian'; 'Authors Dominic Midgley and Chris Hutchins go to commendable lengths to tell the story' – Sunday Times; 'Where this book sets itself apart is in its quest to discover Abramovich's true identity. Interviews with his childhood friends, neighbours and teachers in Russia offer an original perspective on the man while access to the informed such as Boris Berezovsky, his one-time mentor, provides a picture of a canny dealmaker and consummate politician' – The Times'; 'Most fascinating account . . . should be read by anyone not just with an interest in sport but also in business and in politics' – Press and Journal.
Available worldwide for purchase on Amazon including
       <![if !vml]>

<![endif]>                                               <![if !vml]>

<![endif]>
________________________________________________________
MR CONFIDENTIAL
NAMED after his national newspaper column, this is the warts-and-all story of the author Chris Hutchins – told by himself. Elvis Presley, Princess Diana, Sir Elton John, the Beatles, Tom Jones, Fergie/Sarah, the Duchess of York, Sir Richard Branson, Prince Charles and a past love, all figure in this extraordinary book of revelations. Previously untold stories of the royals, celebrities and the occasional politician are all uncovered in this rich and unrivalled mix of anecdotes by a man who has been described as 'the Master of his craft'. For more than a decade his Confidential column chronicled the lives of the rich and famous: think of a moment in popular culture in the last four decades and the chances are Hutchins either covered it from the inside or got caught up in it. At one time he ran the UK's highest flying music PR firm, shaping the careers <![if !vml]>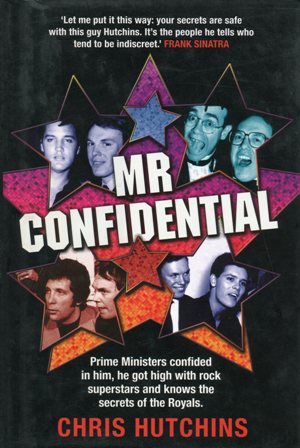 <![endif]>of Tom Jones, the Bee Gees, Eric Clapton and many many others. It's been a rocky road for the boy from a Devon housing estate on whom - according to Sir Richard Branson - the future of his Virgin Atlantic airline once briefly depended. Read the hilarious stories passed on from below-stairs by Rupert Murdoch's cheeky butler, the amazing tale of Muhammad Ali's talk show crushed by prejudice, the palace maid who talked about her secret romance with one of the Queen's sons, and how Hutchins upset his travelling companion Rod Steiger on a transatlantic flight.
"If we can do what you say we can do, I can see me being back in Downing Street after the next election." – Harold Wilson.
"There are many things you know about from knowing me and Elvis – and I can't stop you writing them." – Colonel Tom Parker.
"I spent an enjoyable day with Mr Hutchins, Your Highness. Then I discovered he drove a Japanese car. So don't talk to him" – Earl Mountbatten introducing Chris Hutchins to Prince Charles.
"So you're the man who wants me to meet the Beatles. Tell me about John Lennon." – Elvis Presley.
"Show me a man who hasn't made a mistake today and I'll show you a man who hasn't made anything today." – Muhammad Ali.
"Thanks so much for your help during my recovery. You've been a great friend and an honest one." – Sir Elton John.
Available worldwide for purchase on Amazon including
       <![if !vml]>

<![endif]>                                               <![if !vml]>

<![endif]>
________________________________________________________________________
<![if !vml]><![endif]>
DIANA ON THE EDGE
THIS was the first book to delve into the mind of the Princess of Wales while she was still alive as she faced the greatest crisis of her life. Ostracized by the Royal Family, detached from her friends and tainted by the stories of her adventures with the married Will Carling and other men, she was being pushed to the very limits. Drawing on high-level sources close to the Princess – some of whom had never dared speak before – and the expert views of a team of distinguished specialists, this book examined her growing instability and what lay behind it. Diana, whose reputation had once been unassailable, had been branded an adulteress, a tyrannical employer and a spiteful gossip. Unnerved by her increasingly erratic behaviour, Buckingham Palace even took the unprecedented step of commissioning a psychiatrist to produce a confidential report on her health. Was it just another attempt by the courtiers she had already identified as 'the enemy' to deface her image? Or was the woman who had confessed to self-mutilation and admitted to suffering from depression and bulimia, too volatile and endangering the monarchy itself? Diana on the Edge reached startling conclusions about the Princess's troubled state of mind.
Available worldwide for purchase on Amazon including
       <![if !vml]>

<![endif]>                                               <![if !vml]>

<![endif]>
        ________________________________________________________________________
ELVIS MEETS THE BEATLES
NO one is better equipped to write this account of the greatest summit in rock 'n roll history than Chris Hutchins – not only was he the only journalist present, he set it up! When they first met in a Hamburg night club in 1962 John Lennon asked Hutchins if he ever thought he'd be able to meet the man they called 'the King'. The writer from the NME said he would try and arrange it – one day . . . That day came in August 1965 when Hutchins - after cultivating a friendship with Presley's legendary manager Colonel Tom Parker - took John, Paul, George and Ringo to the American megastar's home in Bel Aire, California, for a party. Collaborating with fellow author Peter Thompson, Hutchins has written this detailed and uncompromisingly frank account of that night – and the events that followed including an ongoing feud between Lennon and the man he had once worshipped.
<![if !vml]>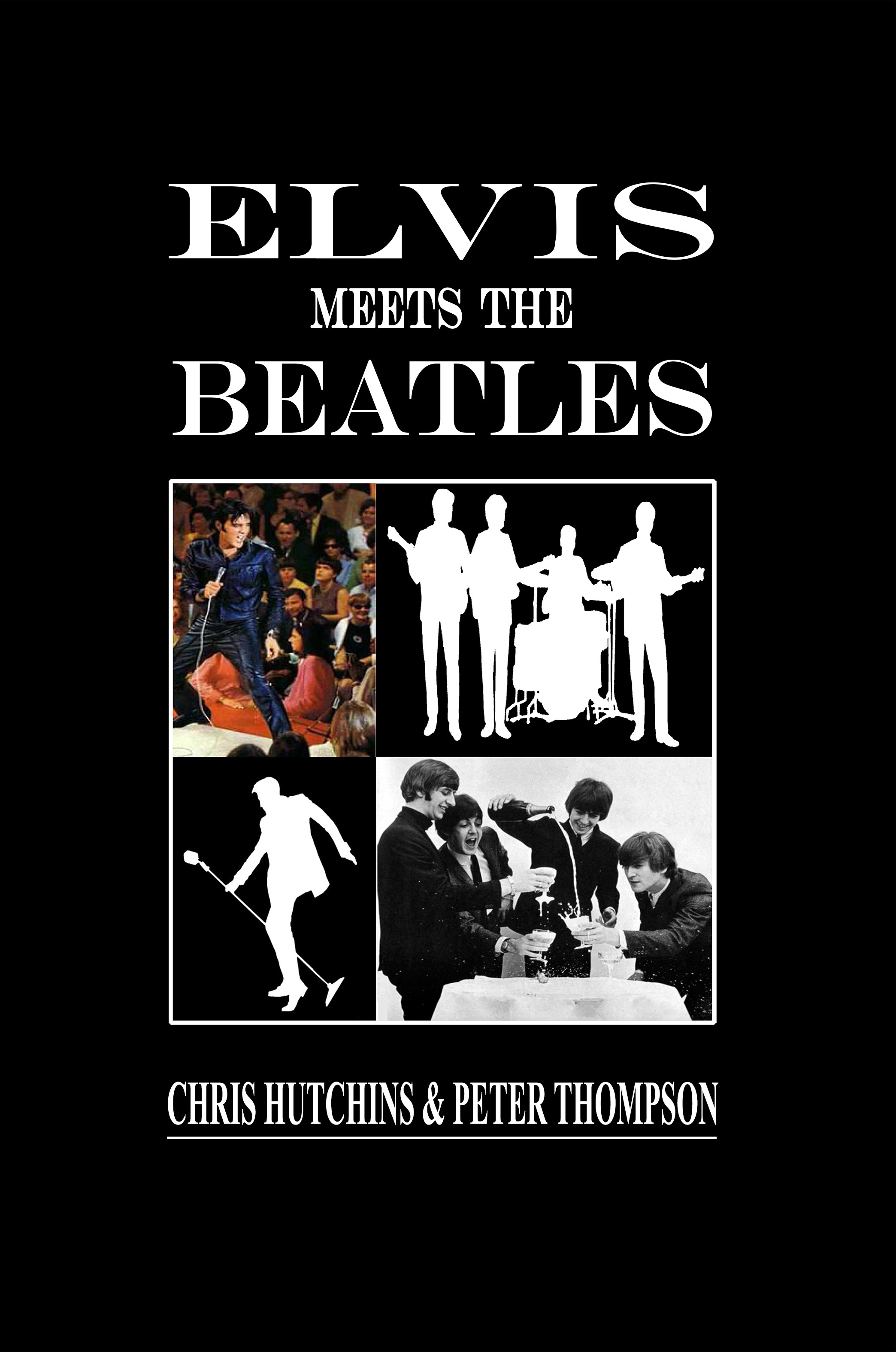 <![endif]>
'A fast, enjoyable read which captures the Beatles' tours, is good on Presley and Lennon's competing needs to be seen as the toughest kids on the block and also gets under the skin of Presley's manager, Col. Tom Parker, whom Hutchins knew' – Q magazine.
ELVIS MEETS THE BEATLES is available to print as an ebook.
It is separately published under its UK paperback title, ELVIS & LENNON.
Available worldwide for purchase on Amazon including
       <![if !vml]>

<![endif]>                                               <![if !vml]>

<![endif]>